---
Currently, we are involved in the following inter-disciplinary collaborations.
Shared E-Fleet

With electric cars on the rise, the Shared E-Fleet research project conceptualizes and implements a prototypical solution to organize, supervise and optimize business e-car fleets. We develop efficient state of the art route prediction algorithms catering to the context of e-mobility, supporting and gearing into the hardware and software components being designed by the other partners.
Theseus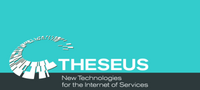 The vision of the application scenario is to establish syntax and semantics based on image vocabularies to build an intelligent scalable robust search engine for the medical domain, with applications in Clinical Decision Support and Computer Aided Diagnosis.
Modeling a medical activity monitoring system for computer-aided diagnosis
Lack of exercise is a rising and wide spread problem. The convalescence of diseases like obesity, cardiac insufficiency, diabetes and bone healing are addicted to a controlled dose of the patient's activity. Activity monitoring means the continuous recording of a person's acceleration data. This method is gaining more importance for the treatment of these diseases especially considering their optimized convalescence.
ArchaeoBioCenter (ABC)

The ArchaeoBioCenter (ABC) links researchers from social science like archaeology and archaeobiology with natural sciences like biology, geology, and computer science. We host the ArchaeoBioInformatics Group that is responsible for establishing central ICT-services such as databases and data analysis tools for the partners within the ABC.
Center for Empirical Studies (CEST)
The Center of Empirical Studies is a research initiative linking empirical and methodological research groups from several different faculties. The initiative is organized in three interacting areas: Statistical Learning, Data Mining & Knowledge Discovery, Statistical Learning, Data Mining & Knowledge Discovery, Dynamic Modeling.